Tags
Bible prophecy, category 4 hurricane, Category 5 hurricane, Florida, Florida Keys, Hurricane Harvey, Hurricane Irma, Hurricane warning, King David, last days Bible prophecy, National Hurricane Center, National Oceanic and Atmospheric Administration, NHC, prophecy, Puerto Rico, storms, Virgin Islands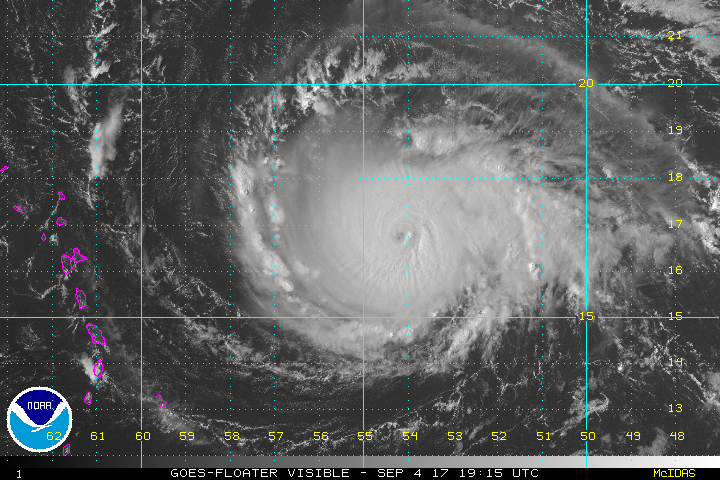 Photo credit: NOAA

HURRICANE IRMA HEADED TO CUBA, FLORIDA
The National Hurricane Center (NHC) issued a Hurricane Warning for Puerto Rico and the Virgin Islands on September 4, 2017, at 0300 UTC.
Hurricane Irma is moving west near 13 mph. Maximum sustained winds are near 140 mph, with higher gusts.
Irma is a category 4 hurricane. Additional strengthening is forecast during the next 48 hours, reported NHC.
Forecasts predict Irma could develop into a category 5.
As with Hurricane Harvey, it is critical to understand that with this magnitude storm comes great storm surges, waves that can reach tsunami heights, which are potentially deadly to anyone in their path. Harvey's storm surge was estimated to be as high as 10-12′. Imagine a 10-12′ wave coming at you, with winds of 120-140 mph!
The projected path of Hurricane Irma:
This hurricane on the heels of Hurricane Harvey is devastating news. The death toll for Harvey victims reached 60, as of Monday.
Some independent bloggers have tried to warn residents of the impending Hurricane Irma, so preparations could be made in advance, but major weather outlets have warned people not to issue unauthorized warnings, or they will face criminal prosecution.
In other words, folks, the Liberal Luciferian Lunatics would rather you not have enough time to flee, as to see you have the advantage of the potential danger a few days earlier!
Perhaps it's part of their depopulation agenda.
The Word of God tells us there will be signs in heaven and storms in the last days:
"You shall be visited of the Lord of hosts with thunder, and with earthquake, and great noise, with storm and tempest and the flame of devouring fire" Isaiah 29:6.
"I will show wonders in heaven above, and signs in the earth beneath, blood, fire and vapor of smoke" Acts 2:19.

King David said,
"They that go down to the sea in ships, that do business in great waters, these see the works of the Lord and His wonders in the deep; for He commands and raises the stormy wind, which lifts up the waves thereof. They mount up to heaven, they go down again to the depths. Their soul is melted because of trouble. They reel to and fro and stagger like a drunken man and are at their wits end. Then they cry unto the Lord in their trouble, and He brings them out of their distresses" Psalms 107:23-28.
If you get stuck in a storm, sincerely cry out to the Lord for salvation and help, and as King David said, "He brings them out of their distresses."
King David was no dummy. He also said,
"I would hasten my escape from the windy storm and tempest" Psalms 55:8.
No doubt you too will escape, if you receive warning in enough time!
It behooves everyone to keep an eye on international weather reports. When you see close regions affected, then you can plan early, just in case.
Stay ahead of the LLLs, folks, and stay safe.
Hundreds of Bible prophecies have been fulfilled and those remaining shall surely come to pass. Are you prepared to stand before God and give an account of the life you have lived on this earth? If not, salvation is only a prayer away. Please visit the How Can I Be Saved page – your eternal destiny depends on it. God bless you.
---
All written publications on this site may be copied and shared for evangelistic and educational purposes. Did Jesus say, "Go into all the world and preach the gospel to every creature — and make sure you copyright it?!" I think not.
God bless you with the Light of the world.
* Please provide attribution to this site via link. *